Allen's Budget Motel in Watertown, New York, started  in 1970 based on the belief that if you provide a clean, comfortable, and affordable accomodation, customers would be happy and return.  Word spread and here we are 40 years later still going strong.  The motel has doubled in size since the beginning.  Rooms are constantly being updated.
First in the area to provide both high speed wifi and wired internet connections, Allens has flat screen TVs in every room. All the rooms have new microwaves and refrigerators.  The apartments have full kitchens with stove, microwave, and full size refrigerator.
We'll keep it clean and affordable, and you keep coming back!
(315) 788 - 7944
24019 New York 342
Watertown, NY 13601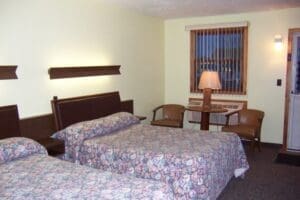 Amenities:
WiFi
Complimentary Coffee
Kitchenettes Available
Microwave
Refrigerator
Cable TV
Area Attractions:
Allen's Budget Motel is located within minutes of the scenic 1000 Islands area, St Lawrence River, Lake Ontario, Black River, US military base, Fort Drum, NY, 24/7 restaurant, McDonalds, super Walmart, Subway, Taco Bell, Dairy Queen