We're not a franchise and we never will be. We're here to provide our guest an authentic John Day experience at our locally owned and operated business.  Also, we welcome electric cars! A Tesla charging station is only 150 meters from Dreamers Lodge. Our parking lot is also equipped with standard electric charging ports and we welcome all electric vehicles to the area. There's no better way to drive through Eastern Oregon than in an environmentally friendly electric vehicle.
(541) 575 - 0526
144 North Canyon Boulevard
John Day, OR 97845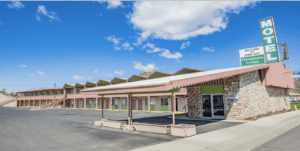 Amenities:
WiFi
Complimentary Coffee
Kitchenettes Available
Microwave
Refrigerator
Hair Dryer
Pet Friendly
EV Charging
Discounts:
AAA Discount
Senior Discount
Military Discount
Area Attractions:
The Dreamers Lodge Motel is conveniently located in the heart of Eastern Oregon, John Day. The area offers quick and easy access to the John Day Airport, Painted Hills, Strawberry Mountains, Canyon Mountain Trail, and great local beer. From John Day there is access to recreational opportunities, including mountain biking, fishing, hiking, camping, rock climbing, white-water rafting, skiing, and golf. John Day the largest town in Grant County and is home to the fair grounds, Grant Union Prospectors, Kam Wah Chung Museum and much more.