Welcome to the heart of Jackson Hole and the Four Winds Motel. The Four Winds Motel strives to welcome our guests by offering clean, non-smoking, quiet and comfortable rooms. We want to make your stay in the beautiful area very enjoyable. SEASONAL MOTEL. OPEN EARLY MAY THROUGH MID OCTOBER. The 4 Winds Motel is a quiet, peaceful kind of place, and we like to keep it that way for the most part, so please, NO NOISY PARTYING!!!!! Thanks.
(307) 733 - 2474
150 North Millward Street
Jackson, WY 83001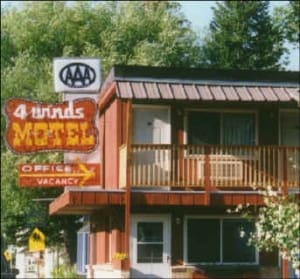 Amenities:
WiFi
Cable TV
Free Local Calls
Near Downtown
Area Attractions:
We are located across from one of Jackson's City Parks. Here, there is room for the kids and adults alike. There is also a playground, tennis and basketball courts, and picnic tables. The town of Jackson is just four miles south of Grand Teton National Park and fifty miles south of Yellowstone National Park. The Parks offer the visitor many sights and attractions. The Four Winds Motel is an easy drive to both Parks.